Welcome to St. Ann Catholic Church
Notes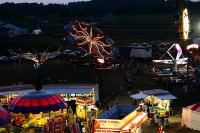 Our festival is this week. Please join us for great food, rides, games for all ages, silent auction, Annie's attic, beer garden, casino and more! Become a
festival sponsor
!.
Thursday 8/23: 5:00 - 10:00 PM
Friday 8/24: 5:00-11:00 PM
Saturday 8/25: 5:00-11:00 PM (Carnival Rides open at 3:00 PM)
The New Ministries Fund continues. You can
make a donation online
or during the monthly second collection at church.

ONLINE GIVING
Make your weekly offering online!
Events
Check out the Events page for the latest info on upcoming masses, events. etc. for the upcoming week.

New Parishioners
Welcome! We request that you call or stop at the Parish Office and make our acquaintance as soon as possible. Please fill out our registration form. If moving, please notify the Parish Office.
Sacrament of Reconciliation
Saturdays at 5:00 PM, or by appointment
Daily Mass Readings
Click here for Text
Click here to listen online
Parish Newsletter
Latest Newsletter