Welcome to St. Ann Catholic Church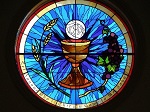 At St. Ann, we are committed to reaching out to those in need in the larger southwestern Marion County area; and to demonstrate our concerns for the broader universal church and the Archdiocese of Indianapolis in terms of sanctity of life, social justice, peace and love
Notes
Ladies, join us for Girls' Night Out here at St. Ann on Friday, January 27 from 6-9 pm in the social hall. Admission is free, but a $5 donation will get you 2 tickets for water or wine. Visit over 17 vendor booths and socialize with like-minded ladies while getting a free manicure. RSVP via our church
Facebook
page if possible. All proceeds will benefit the Intentional Giving Campaign.
Events
Check out the Events page for the latest info on upcoming masses, events. etc. for the upcoming week.
New Parishioners
Welcome! We request that you call or stop at the Parish Office and make our acquaintance as soon as possible. Please fill out our registration form. If moving, please notify the Parish Office.
Sacrament of Reconciliation
Saturdays at 5:00 PM, or by appointment
Daily Mass Readings
Click here for Text
Click here to listen online
Parish Newsletter
Latest Newsletter