HISTORY OF ST. ANN'S PARISH
1990-2000
Father Dan B. Donohoo (right) arrived as Administrator on July 3, 1991.  This event, one of many, in the history of St. Ann has the prognosis of an open, healthy, and refreshing relationship.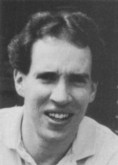 When asked, "Father Dan" (the way he would like to be called), "do you plan a repainting project?"  He laughed, "No.  I like what I see.  I'm not a shaker, I'm low key, but not afraid to change things that need to be changed.  We will work together, I assure you."
On July 16, 1991, Joe Hornet, Chief Financial Officer for the Archdiocese, met with the Parish Council with a proposal.  He said, "Tonight, I am here to offer you an incentive to rid the parish of the remaining debt (about $240,000.00).  We, the Archdiocese, will end up writing off $2.00 of your debt for every $1.00 you pay.  If you pay for the brick and mortar of the church, the rest of it will go away.  But once you start this project, it must be completed within five years," he concluded.
The two for one deal made sense, but stark reality that our monthly income did not meet the monthly expenses put a definite hold on all proposals.
A sub-committee was established by the Parish Council, with approval of Archdiocesan agencies and officials to investigate the possibilities of selling Wilberding Center.
This lead to other committees to plan for the needs of the Parish without the use of Wilberding Center.
The two rooms that were Barbara Pacuch office, Tom Agnew office and Computer room were changed by removal of one wall.  This change resulted in a big Meeting Room that will now hold about 30 people with ample room to move about.  (The Computer is also in the meeting room.)
The old dining room, carpet removed and tile floor laid became "St. Ann Central" an office for Barbara Pacuch, Parish Secretary.  (This office is the center of operations.)
The living room, with carpet cleaned, will remain the same as will Father Dan's office, with archives "nestled" in back of his office.
Upstairs, is the office of Tom Agnew, Pastoral Associate, and the office of Laura Risch, Administrator of Religious Education, a possible conference room, and storage room.  These rooms will remain the same.
The little house next door will be the new Religious Education Center.  The Community Building will be used for expanded space for Religious Education and storage space for Festival material and other items.
A neighboring business expressed an interest in the Wilberding Center building.  Four months of negotiations followed in which Archdiocesan officials also participated in the discussions.
Father Dan announced, "Technical matters have been resolved.  This means that the offer to purchase Wilberding Center is finalized with Maplehurst Dairy."
Father Dan announced the sale to the Parish during the August 7 and 8, 1992, weekend masses.
The sale means that St. Ann Parish is now able to pay its approximate debt of $240,000 to the Archdiocese.  We will be able to take advantage of Joe Hornet's offer of two for one debt reduction made to the Parish Council on July 19, 1991.
A symbolic check for $80,000 was presented to Joe Hornet, Archdiocese Chief Financial Officer, during our 75th Anniversary Celebration.
Interestingly enough, the debt incurred by the school deficit operation is now paid off by the school.
In 1992, on the 12th and 13th of September, St. Ann celebrated her Diamond Jubilee.  On Saturday, September 12, a dinner dance was held starting at 6:30 pm at the Msgr. Downey K of C Hall.  On Sunday, September 13, a noon Mass was celebrated by Archbishop Daniel Buechlein and a reception followed.  A Memory Lane Room of memorabilia was on display which gave people an opportunity to reminisce past history and get reacquainted.  The long-lost home movies of Fr. Wilberding were found and have been put on video tape.
Fr. Donohoo left St. Ann's In February, 1996 and was replaced by Fr. Stephen Giannini. Fr. Giannini left St. Ann's in October 1997.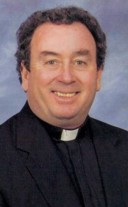 In December of 1997, Fr. Glenn O'Connor arrived and was pastor of both St. Ann's and St. Joseph's parishes.
In 1998 at the request of the Archdiocese, a study on the possible merging of St. Ann and St. Joseph parishes was explored.  Based on the study, it was determined that St. Ann should move closer to the center of Decatur Township to support the growing population. 
1980-1990
2000-