HISTORY OF ST. ANN'S PARISH
1980-1990
Archbishop Edward T. O'Meara attended and participated as a confessor at St. Ann's Parish Penance Service on December 18, 1980. (About five hundred people received the Sacrament.)
The Air Conditioner Fund Drive for the church was a success and the air conditioning was installed in the church in time for the summer of 1981.
Another first for St. Ann's was a Parish Retreat held in February of 1982.
Father Bob Nogosek and Miss Beth Ann Hughes gave the five day retreat. (Over two hundred people attended this retreat.)
In the summer of 1981, another young seminarian, Daniel Staublin, came to St. Ann's to see first hand all that goes on in a Parish at Festival time. Father Daniel Staublin was ordained on May 22, 1982.
Father William Blackwell, from St. Ann's parish, celebrated his twenty-fifth ordination anniversary here at St. Ann's on May 23, 1982.
Father Charlie received word of his change from St. Ann's and the people of the parish gave him a car for his birthday and as a `going away' present.
Father Charlie moved to St. Jude's on June 6, 1983 and later pastored at Mary, Queen of Peace Church, Danville, Indiana.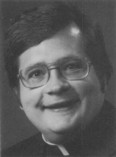 Father John Beitans (right) was appointed pastor of St. Ann's of Indianapolis, Indiana by Archbishop O'Meara. He arrived on June 6, 1983 to St. Ann's.
On July 23, 1983, there was a Clean Up Day celebration in which many of the parishioners participated.
Father John's formal installation was on Sunday, July 31, 1983, followed by a dinner in the School Hall.
Father John divided the parish by areas and set up a series of `Listening Sessions' meetings in the home of the parishioners.
The purpose of these meetings was to find out where there are serious problems or if someone had fallen away from the Church and needed help. It also was a good way for Father John to meet more people in a one-on-one basis.
The Mass schedule was changed and is now the same for the whole year.
The change in the Mass schedule gives the Confraternity of Christian Doctrine (CCD) program more time for religious education.
The summer of 1984, another young seminarian, Philip Unwin arrived at St. Ann to see first hand all that goes on in a Parish. He worked on the printing of this history, and also had job duty at the Festival.
Homecoming was held on May 6, 1984, with a large turn out of the people of St. Ann's.
The next four years were lean years for St. Ann. The buildings were not maintained due to the lack of funds.
Father John was transferred in July of 1988 to St. John the Baptist, Starlight, Indiana.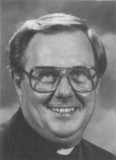 Father Larry P. Crawford (left) became pastor in 1988.
Looking back, we were a "sorry sight." Our hands were wringing, our roofs were leaking, our plumbing a nightmare, our electrical system, ready to blow, and our "financial body" was hemorrhaging with questionable prognosis.
Father Crawford saw a different image and projected loudly his vision of the Parish Structure working, and a healthy and refreshing future.
Projects of the greatest need were tended to by the people with renewed vigor. With sleeves rolled up, sweat running rivers, it was time to tear down and time to repair. Time to establish and make real the idea of Parish Structure. A time to live parish life as it should be lived, together as a community.
The traumatic decisions that had to be made concerning closing of our school were made in order to face financial reality.
The school, founded in 1919, operated for 70 years, was closed in June of 1989.
St. Roch was chosen as the primary school to provide elementary school education for St. Ann's children. On July 3, 1991, Father Crawford was transferred to St. Simon.
In the summer of 1989, St. Ann enters the era of Computers via, a donation of a Computer. Tom Agnew, now Pastoral Associate, had previous computer experience, began the tedious task of input of St. Ann Parish records. The office is now computerized.
Total Catholic Education for the parish as a whole, being explored with good results. The Renew Program began in October of 1988 and lasted two years with positive results. (There is one group still meeting on Wednesday morning as the result of the Renew Program.)
Then the liturgical program was expanded to bring forth the beauty that surrounded us with the spiritual essence of our Catholic Faith.
The building that housed the school was renamed Wilberding Center in honor of Father Wilberding who gave many years of service to St. Ann.
Various committees and Father Crawford investigated ways to use Wilberding Center. It was advised by all, including the Archdiocesan agencies and officials, that if a buyer could be found, it would be wise to sell the building.
On May 5,1957, one of our own, Father William Blackwell, celebrated his first mass at St. Ann. It was a sad day indeed for St. Ann, to learn, 33 years later, the news of the death of Father William L. Blackwell on February 2, 1990, at the age of 60. A native of Indianapolis, Father Blackwell was ordained at St. Meinrad Seminary in 1957 and became assistant pastor at St. Charles Borromeo Parish in Bloomington. At the time of his death he had been on leave of absence since 1988, due to illness.
The funeral liturgy was celebrated at St. Ann Church in Indianapolis on February 6,1990. Many Archdiocese officials, many parishioners and friends attended. (I had the honor of doing the readings.)
Father William L. Blackwell is dearly missed by all.
1970-1980
1990-2000