HISTORY OF ST. ANN'S PARISH
1970-1980
On June 24, 1970, Father Eckstein was appointed by Archbishop Biskup to be Chaplain at Methodist Hospital. (Dearly missed by St. Ann's parish.)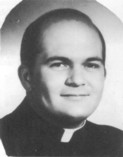 It was on June 26 that Father Gerald Kirkhoff (left) arrived with high recommendation of Archbishop Biskup and others who knew him, but "he can't cook," wrote Father Wilberding in his journal.
This was the year, 1970, that seminarians were sent to most of the parishes of Indianapolis to see first hand, all that goes on in a Parish.
Mark Gottemoeller was the first young seminarian to come to St. Ann's under this program. He worked on the census, with the C.Y.O., and the Summer Bible School.
Mark's gasping remark at the end of Summer Bible School was, "This has got to be organized confusion." Father Mark Gottemoeller was ordained May 22, 1976.
The first neighborhood Mass in homes of the people was said on July 20, 1970. The Liturgical Commission divided the parish into areas and the people invited Father to say Mass. (More of the changes caused by Vatican II.)
Mounting debts resulted in the decision to drop the seventh and eighth grades. (Last year's enrollment was 210, compared with 168 this year.)
Father Wilberding's health gave him more serious problems at this time.
The people of St. Ann's honored Father Wilberding for his twenty-five years as a their priest. He was very pleased to see over four hundred people in church and more than five hundred people at his reception. The turn out of the people of St. Ann's gladdened his heart.
Father Wilberding also marked his forty years as a priest. There was a Mass followed by a parish pitch-in get together in the School Hall.
The Parish Festival revived after fifteen years of rest was a great success.
In 1973 Father Kirkhoff was appointed full time instructor at Scecina Memorial High School - with his residence at Scecina. (He is dearly missed by St. Ann's parish.)
On July 1, 1974 Father Wilberding retired.
It was at St. Vincent Hospital on July 27, 1974 that Father Wilberding died.
The small chapel in the new church is called "Father Wilberding's Chapel, "in his honor and memory.
Father Wilberding's calm manner will always be remembered. Father Wilberding would often say, "Now Susie," or "Now Tommy," in order to soothe someone's ruffled feathers.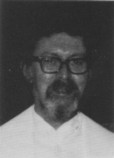 Father Patrick J. Kelly (left) was appointed pastor of St. Ann's of Indianapolis by Archbishop Biskup. Formal installation was on Sunday, August 25, 1974.
Father Kelly was relieved of duties in January 1975, due to ill health.
On January 22, 1975, Father Charles S. Chesebrough (right) was appointed pastor of St. Ann's of Indianapolis by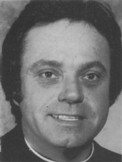 Archbishop Biskup. Father Chesebrough remained in service at St. Ann's until June 6, 1983.
The Paint It, Spruce It Up Era began in earnest. The Rectory was remodeled, aluminum siding put on the outside of the Rectory, Convent, Office Building, and Community Building.
All the school classrooms were painted and the School Hall was remodeled.
The two houses on Holt Road were sold to help pay the bill of tearing down the old church. This extra room provided for the expansion of the much needed parking area.
The Church was painted inside and a new red carpet for the center aisle was donated and installed.
Father Charlie planted roses, many flowers and seeded the lawn. (Many times Father Charlie could be seen mowing the lawn.)
Father Charlie celebrated his tenth anniversary of his ordination on March 13, 1977. Mass was followed by a reception in the School Hall.
1960-1970
1980-1990